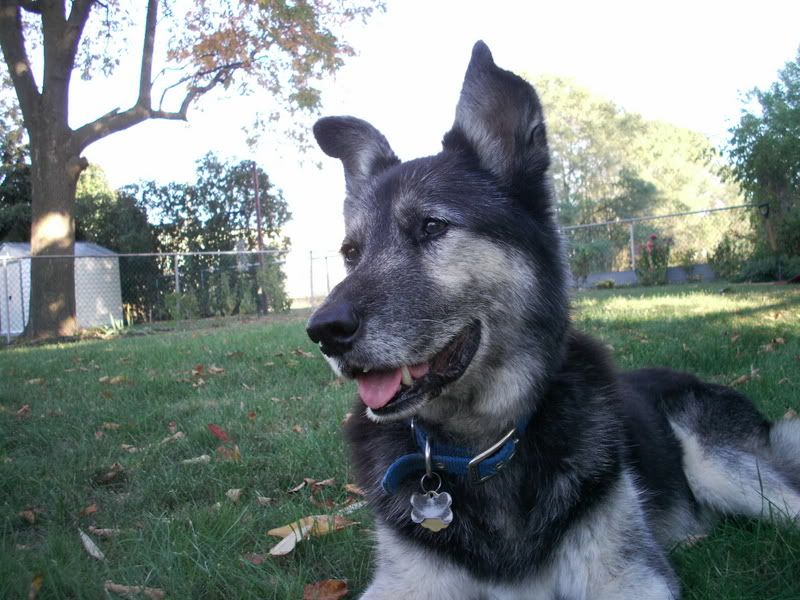 We knew this day was coming as Riley was 14 years old, and had been having increasing problems with his health. Already in the spring when we had a cold day following a warm day he would have a really hard time getting up, and over the past several months he seemed to be confused very often. We would feed him and he would forget as soon as he finished eating the food, or something would happen and he would just have this look like, "I don't get it."
We figured with the colder weather coming on, that we would have a day come when he could not get up, but we didn't get to that point. In fact, he had been dealing with the cold days and nights we had already very well. Well enough that I was wondering if we would get another year with him although he was having occasional problems where he would fall down for no apparent reason while walking. But, last Thursday he started to get sick. By Friday he was very ill and had lost a lot of weight. We had a dog agility trial to go to, and my mom was going to take care of our son, so she took care of Riley as well. The way he looked I honestly did not expect him to be alive when we got back Saturday. He was not in any apparent pain, but was obviously sick and had lost a lot of weight.
Saturday when we got home he was still alive, and was looking a little better, but he was still ill and his bodily functions were not functioning as they should. Sunday he looked a little better yet, and could keep his food down. We already had an appointment at the vet for Monday to have him put to sleep, but I was really wondering if I could do it as he seemed to be rallying.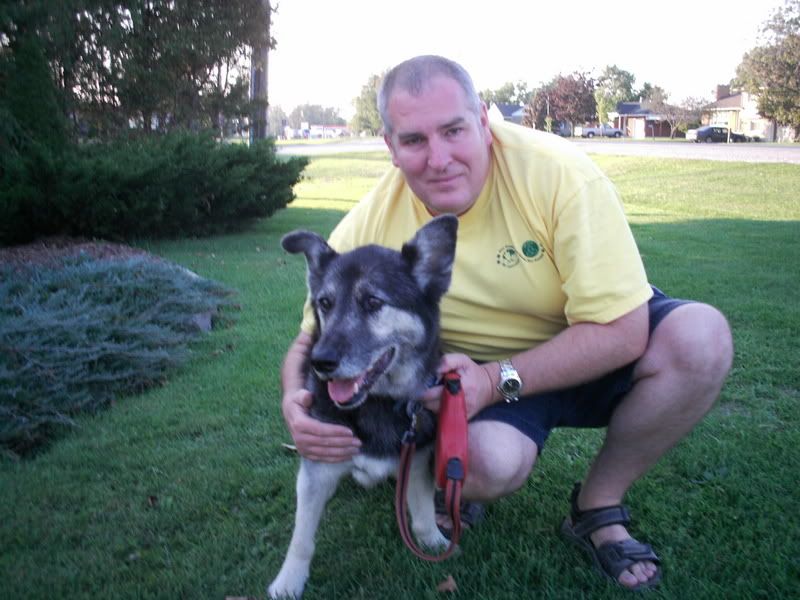 We decided to take him to one of his favorite places to walk, the Pinery provincial park, and we had a wonderful walk with him, but after about 20 minutes, he all of a sudden had his chin almost hit the ground, and he was exhausted. We took a half hour of rest with him breathing very heavily, so he could rest. Then we headed back to the van. He enjoyed the walk, but not like he normally would.
Today he started to get sicker again, and although he looks pretty good in the pictures, you cannot feel how he had shrunk to skin and bones. We went to my mom's place, where he lived from the time we got him at the humane society as an eight week old puppy, who was terrified of dogs and cars, and while riding on my lap on the way home, decided to pee on me. That place was always 'home' for him, and he was very content to be there. We even took him to see his dog companion on the way there, which he also enjoyed, not wanting to leave.
At 6 my mom and I headed to the vet with him, and Annette stayed at my mom's with Justin. We got there early, so Mom took Riley for one last walk, and then at 6:30 we went in. By 7PM is was all over and he headed back to bury him.
Riley was a wonderful companion. One of the most even tempered, calm, obedient (at least until he got on) dogs I have ever known. I know I will miss him, I do already. It is amazing how an animal can become such a part of ones life. I know it was time, but I still wish we could have had a few more months.